I believe in the power of my every day choice to abstain from eating meat or dairy and how that helps decrease my carbon footprint. Without getting too much into the politics, I realize that eating vegan is a lifestyle not just a diet; and that with any lifestyle, it takes time and practice to continue on any given path. I heard someone explain a "vegan-ish" lifestyle like this, "It's like being a Christian – if you sin, it doesn't mean you need to quit being a Christian, you keep aiming for a Christian lifestyle that practices your morals".  So when you "mess up" and eat meat or a piece of cheese, it doesn't mean you can't be a vegan.
Now, I know some vegans who would probably get upset at the above statement, but like I said, I don't want to get too much into politics and I think there needs to be a more common ground for those interested in making a change- no more of this "you can't sit with us" attitude towards those lost in the grey area of vegan-ish land. Everyone's journey towards awakening must start somewhere.
So here! I've compiled a "tip" list of things to ponder over if you are considering making a transition into the vegan lifestyle…
Find a buddy
The first time I attempted a vegan diet was after taking an environmental science class my sophomore year of college and feeling alarmed about the reality of my carbon footprint. Long story short, I gave up quickly after I gave in and ate some carne asada tacos. Fast forward to 2015 and I met my Fiance who was practicing a vegan diet. I was a bit intimidated at first and the independent person in me felt  it unthinkable to try a diet just because a guy I liked was doing it, but I had to push my ego aside and find facts that resonated with me and persuaded me in the first place. So as we started dating, I decided to eat vegan when I was with him- which was usually just the weekends. Then I gradually started adding days when I was by myself- for me that was Wednesdays- and from there it got easier. So grab a friend or a coworker, try to find someone you see on a regular basis and make the effort together. It will be a lot easier when you have someone to hold you accountable.
Find your flavor
 I grew up in Los Angeles with a Filipino mother, so my flavor profile usually leans towards Asian cuisine or tacos. With that in mind, I have a few tricks up my sleeve for a quick vegan meal that incorporates some tricks I learned watching my mother cook. For instance – soy sauce, garlic, vinegar, and lemon. Those four things alone whether used together or not have been the gateway to so many flavorful dishes I have made now in my adult life. One of my all time favorite lazy vegan dinners is a bowl of brown rice, steamed spinach topped with a mixture of soy sauce, garlic and freshly squeezed lemon juice. Sometimes I'll add ginger if I have it on hand. But from there you can build- add tofu for protein, or use some frozen vegetable gyoza from the freezer section of your market to top it off and bam! you have a palatable meal…oh and don't forget the Sriracha.
Thai and Indian curries are another one of my favorite dishes to whip up and so I keep the staples for that in my kitchen- curry paste, coconut milk, and other spices – when I need to eat my vegetables before they go bad, this is a great dish to cook because you can basically put everything in a curry.
Learn how to grocery shop and the basics of cooking
Now I know that to some people, this may sound a bit silly. But it took me a while to learn the properties of certain foods and how they were best prepared to maximize their flavors. For instance, did you know that you should soak your potatoes (cut) in some water and dissolved sugar to achieve that soft french-fry like goodness on the inside? Neither did I and boy does it make a difference! Learning how to simmer and when to add certain vegetables makes a difference, like eggplant for instance, you add that towards the end of your stir fry so that it doesn't get slimy, and you add the carrots and potatoes first so that they can cook all the way through- so on and so forth.
Here is my shopping List with some notes! 
At first I thought meal prepping on Sunday's was the way to go. But then I quickly found out that I was spending most of my grocery budget on the ingredients for one meal, and I would grow tired of eating the same thing throughout the week, resulting in wasted food. I knew that making scrappy meals on the fly was my strength so I decided to focus on items that I knew I could "paint" with when it came time to get creative in the kitchen. So here is how I tackle grocery shopping:
Grab your proteins! 
soy chorizo

tacos
throw in some hashbrowns and you have a bomb breakfast hash

tofu
tofurky italian sausages

pizza
hot gogs
pasta
vegetable ratatouille

meatless ground beef

Pasta "Meat Sauce"
tacos
Pizza

Jack Fruit Protein – When I want to treat myself

Found at Safeway they have multiple flavors. I enjoy the Teriyaki and BBQ.
Add in your grains
Now if you don't have grains already, this will be a bit of an investment the first time around, but once you have them, they last a lot longer than your other food groups. So stock up on:
rice
pasta
quinoa
nuts ( I prefer to have raw cashews because so many vegan recipes call for cashews- cheese, sour cream…)
Condiments 
soy sauce
pasta sauce
mustard
ketchup
apple cider vinegar

works wonders with red cabbage

white rice vinegar

just a part of being filipino 😉

Balsamic glaze

great for sauteing vegetables in
salad dressing
Other
Nutritional yeast!

this is a big one because, as I mentioned, a lot of vegan recipes call for this

Something fermented – Sauerkraut, pickled veggies.. always an easy way to take a sandwich or hot dog to the next level!
Finely ground flaxseed meal

this is what I use to replace eggs when I bake! It's a 3-1 ratio 

3 tablespoons of water to 1 tablespoon of flax meal

coconut milk

this is another important staple because it's a great replacer for heavy cream when it comes to baking, and it's a staple in the curries.
I prefer this brand because it isn't as fatty as the other ones: 
Produce
I am fortunate to have a farmers market a few blocks away from my house every Wednesday and Sunday. It is actually a lot cheaper than the grocery store and the quality a lot better. Now if you're like me, there is just something about the farmers market that makes you want to buy everything! All the fresh fruit and beautiful flowers are all so inspiring. But the reality is, you must buy what you can eat! So after much learning, I limit myself to spending ONLY $20 or less and have kept this rule of thumb: 
3 hearty vegetables
 3 Herbs for flavor 
1 leafy green (or purple) 
2 different types seasonal fruit to snack on
Hearty vegetables: I like some variation of the following, these tend to have a longer shelf life too.

zucchini
eggplant
Potatoes
tomatoes

Leafy greens (or purples)

red cabbage – this stuff goes a long way!
kale

Herbs- leafy herbs have the shortest shelf life, so don't get too excited and over buy… just get what you need.. and keep them OUT of the fridge

onions- always
garlic – always 

you can never go wrong starting out each dish with garlic and onions in a pan… never!

Basil
Mint

Misc.

lemon or lime- always
fresh flowers – if there is room in the budget 😉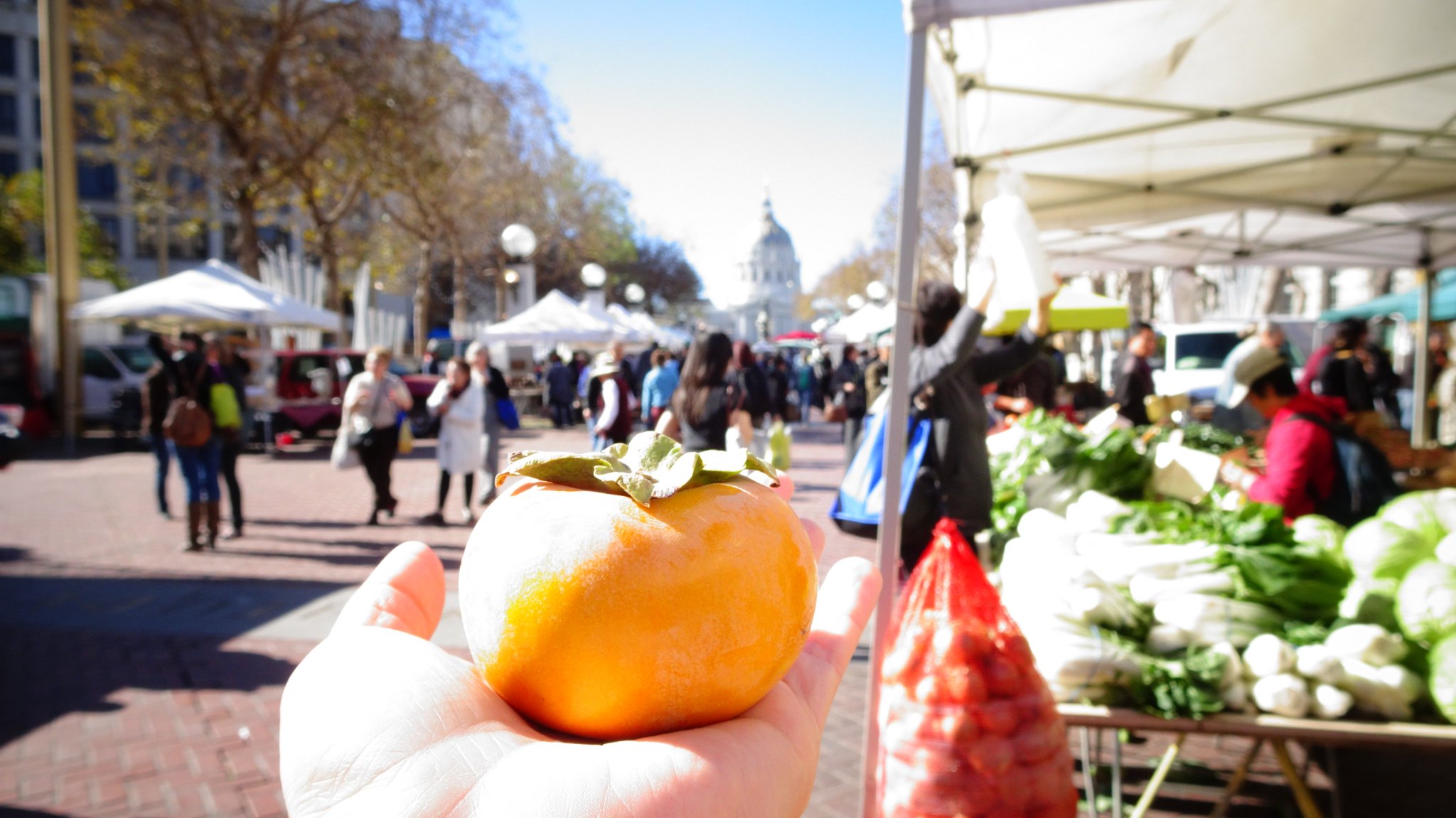 I hope I was able to synthesize everything in a way that makes grocery shopping and cooking a lot easier. Once you have your condiments (flavor) and grains stocked, everything else can be purchased and added based on your cravings. When you think about grocery shopping based on flavor profile, it will make cooking a lot easier as well, because everything you buy, in theory will go together. I am not a chef, and I'm not claiming to be a vegan blogger, just an efficient human being 😉 – hence PlannerCreative. So as I continue to learn along the way, I'll keep sharing ways I find to be the most time efficient and budget friendly ways to live a vegan lifestyle. One more thing: Pinterest is your BEST FRIEND! It's as simple as listing a few ingredients + "vegan" and you will have all sorts of inspiration to choose from.
Thinking about making the switch? What are some concerns you have in terms of time efficiency and budgeting? List them below and let's get talking 🙂
Peace easy,
D. marie